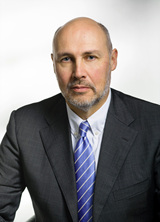 1. Please say a few words of greetings to the members of the KSR.
I am very pleased to have been asked to participate in this interview with the Korean Society of Radiology, as the ties between Korean and European radiology have always been strong. Every year, we have the pleasure of welcoming many Korean delegates to our annual meeting, the European Congress of Radiology (ECR), and the European Society of Radiology (ESR) (www.myESR.org) currently has more than 600 members based in Korea; so I am really delighted to be able to address the KSR members directly and contribute a little bit to this intercontinental relationship.
It was actually as a direct result of meetings between the KSR and ESR that we introduced the 'Voice of EPOS' sessions at the ECR this year. It was brought to our attention that many Korean delegates are unable to receive funding for a visit to our congress unless they are making an oral presentation. This was the initial spark, so to speak, that led the way to a very successful series of poster sessions at ECR 2016, including a full session of presentations in Korean. So, clearly the collaboration between our societies is working well.
2. How do you see the field of radiology evolving in the next 30 years?
This is a very interesting and challenging question. Given the pace of change in radiology in general and the span of 30 years, I expect quite a significant degree of evolution. In a very general sense, I think radiology will move further along the continuum from ¡®art¡¯ to ¡®science¡¯, in other words, from producing ¡®pretty images¡¯ to quantitative data sets. At the same time, communication with referring clinicians is moving away from descriptive reports to a more standardised structured approach. Both of these developments are examples of radiologists needing to adapt their ¡®analogue¡¯ minds to the requirements of a digital age and quantitative working environment.
On a more scientific level, the increasing prevalence of personalised medicine is going to continue to be a key issue for radiologists. Thanks to advancements in medicine, some previously (rapidly) fatal diseases have been reduced to chronic conditions. Radiology will play a more important role in the diagnosis and follow-up of such diseases (all kinds of cancer, degenerative disorders, infectious and inflammatory diseases, ¡¦) by developing biomarkers based on volumetric measurements, perfusion (blood flow), spectroscopy (metabolic information), hybrid imaging (molecular imaging) and functional information.
Undoubtedly, radiology will play a more important role in gathering information for evidence-based medicine; conversely, evidence-based medicine will have an impact on which studies will continue to be reimbursed. In this respect, clinical decision support (CDS) is expected to grow, and play a more important role in patient management, but also in reimbursement decisions by governments and insurance companies. Procedural assistance, not only to support decisions, but to ensure quality, safety and consistent standards, will be a more ubiquitous part of daily practice.
I also expect minimally invasive procedures and interventions under imaging guidance to continue to grow, and I think it is important to continue to invest in the field of interventional radiology. Technological evolutions will continue to help us to provide more accurate diagnoses, and more precise interventions, with lower radiation doses (or no radiation at all, like MRI and ultrasound) and radiology will continue to grow as a tool in screening and risk stratification, provided that it can make the leap to providing unambiguous results.
3. How is the ESR preparing for the future? (A detailed introduction of the activities and organisational efforts of ESR would be appreciated.)
Preparing for the future can be a difficult task, as by the time one's preparations are complete, there is often a whole new set of challenges ahead. This is why the ESR has taken a rather 'open-ended' approach with some of our activities. As a society with a strong emphasis on scientific research, education and professional support, we allow ourselves the freedom to adapt and change our goals as times are changing. When we consider the future from the point of view of the ESR, one of our main objectives has to be to help current and future radiologists to fulfil their potential and provide the best possible healthcare to the public. First and foremost, that implies that we need to provide our members with the education and professional tools that will help them in their professional growth, but it also means providing the supporting infrastructure such as curricula and certification.
In all of these areas, I think the ESR has its finger very much on the pulse, but two particularly good examples of this are the European Training Curriculum for Radiology (ETCR) (http://www.myesr.org/cms/website.php?id=/en/education_training/
european_training_curriculum_for_radiology.htm) and our new eLearning platform Education on Demand (http://learn.myESR.org). A lot of work has gone into making the ETCR comprehensive and applicable to those at different stages of professional development, but I would say the key aspect, in terms of looking to the future, is that it is a 'living document', designed to be regularly updated. It is of vital importance that the education we provide should reflect the reality of current daily practice. The focus must be on the 'now' and on the 'tomorrow', rather than on 'yesterday'; otherwise, taking into account the staggering rate of progress in radiology, we are training people for a professional environment that is already outdated. Therefore, the ESR Education Committee conducts a regular review of the ETCR and updates the content periodically to ensure that we are guiding learners in the right direction. At the same time, the educational resources on the ESR's eLearning platform are also regularly extended and updated to give our members and trainees the means by which to achieve the targets set out in the ETCR. The final crowning achievement is the European Diploma in Radiology (EDiR) (www.myEBR.org), which actually assesses candidates' professional and scientific competence. The body of knowledge is defined by the ETCR, which serves as an international reference that reflects the desired level of competence. This implies that EDiR diploma holders have a qualification that very accurately reflects their competence in the modern world of radiology. It is worth noting, as well, that the diploma is open to candidates from anywhere in the world and a large proportion of people who have taken the examinations so far have come from outside Europe. Please consider this as an open invitation to all our Korean colleagues, to apply for the EDiR.
I would like to point out that our longest running educational project, the European School of Radiology (ESOR), also offers something for participants in Korea. ESOR has been organising courses, workshops, fellowship programmes and scholarship programmes for more than ten years, reaching ever further across the globe. Since 2012, this catalogue has included one course in Korea each year. The next one, an advanced course on thoracic imaging, will take place in Seoul in July, so I would encourage anyone interested in that to visit www.ESOR.org to find the details.
The work of the Quality, Safety and Standards Committee (QSSC) has also impacted the ESR agenda in the past year. This is very much connected to the field of education, in that it involves equipping professionals with the ways and means to perform their jobs in the best possible way. The ESR is implementing clinical decision support in the form of the ESR iGuide (https://www.myesr.org/cms/website.php?id=/en/eu_affairs/esr_subcommittee_on_radiation_protection/clinical_decision_support.htm), which will be piloted this year; we have already produced a set of clinical standards and a range of templates for basic clinical audit (level I) and are currently preparing a second range for general service audit (level II); moreover, the ESR is working together closely with the RSNA on a structured reporting initiative. We are pushing hard to advocate best practice in radiation protection with our own EuroSafe Imaging campaign (www.EuroSafeImaging.org) and our recent involvement in MELODI (the Multidisciplinary European Low-Dose Initiative). All of these activities are being undertaken to enable radiological staff to provide better patient-oriented service in the future. The more support and guidance we can provide radiology professionals with, the easier we can make it for staff to offer high-quality care.
On top of all of this, ESR is also very active in the field of research. The European Institute for Biomedical Imaging Research (EIBIR) (www.EIBIR.org), of which the ESR is the main stakeholder, continues to set an excellent example in Europe in terms of supporting research projects and getting them up and running. We have recently established the European Imaging Biomarkers Alliance (EIBALL) Subcommittee to coordinate the work being done in Europe on the standardisation of imaging biomarkers, with the focus on clinical validation. Clearly research will profoundly affect the outlook of radiology, so therefore, ESR is investing time and effort to become involved in these essential areas.
Finally, we are also continuing our joint initiative with the American College of Radiology and Radiological Society of North America, the International Day of Radiology (IDoR) (www.internationaldayofradiology.com), which I know the KSR has been actively supporting for many years. This is not only a way to raise the profile of medical imaging and increase awareness among the public; it is also a great opportunity to unite the radiological community and stimulate some global interaction between its practitioners. It is wonderful, but not at all surprising, to see the pride that medical imaging professionals take in their role in healthcare throughout the world, and I think this is an important side-effect of the IDoR.
This is really just scratching the surface of the many projects and initiatives that the ESR is involved in, but I hope it gives an impression of the society's general philosophy. The organisation has already achieved quite a lot in just over a decade of activity, but there is no shortage of ambition to keep moving forward.
4. Is there anything else you would like to comment on?
Despite its name, the ESR has always looked beyond Europe. ESR presidents and representatives have worked hard to establish good relationships with radiology societies like the KSR and, where possible, to extend the benefits of our various endeavours to imaging professionals throughout the world. I would certainly hope to see the ESR expanding our collaboration with the KSR in the future. As the ESR, we are willing and able to offer to our Korean colleagues and friends the use of the resources which have been developed within our society. I think it is very important for the global radiology community to stay connected and to share ideas that will help the discipline to make progress everywhere, not only in our own regions.